Call for Nominations is Now Closed
The Ross Munro Award recognizes Canadians whose outstanding service to their craft is a testament to the power of national defence and security storytelling in journalism, videography, photojournalism, or authorship.
Past Recipients
2002: Stephen Thorne, Legion Magazine | 2003: Garth Pritchard, documentary filmmaker, director, and cinematographer | 2004: Sharon Hobson, Jane's Defence Weekly | 2005: Bruce Campion-Smith, Toronto Star | 2006: Christie Blatchford, Globe and Mail | 2007: Matthew Fisher, National Post | 2008: Alec Castonguay, Radio Canada | 2009: Brian Stewart, CBC | 2010: Murray Brewster, CBC | 2011: Rosie DiMano, Toronto Star | 2012: Adam Day, Legion Magazine | 2013: (Hiatus) | 2014: Louie Palu, National Geographic | 2015: Chris MacLean, FrontLine Defence | 2016: Richard Madan, CTV News 
Overview
Award recipients demonstrate professional excellence and objectivity in coverage of national defence and security issues, providing insight, analysis, or examination of the context.
Areas of focus include the Canadian Armed Forces, departmental and national security agencies and must contribute to a wider public awareness and national discussion. Works of distinction demonstrate the importance of sharing stories that impact all Canadians and strengthen and preserve democratic values.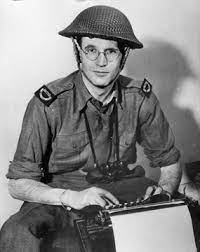 Robert Ross Munro, OBE, OC (September 6, 1913 – June 21, 1990)
Ross Munro was the Canadian Press's lead war correspondent in Europe in World War II. He covered a Canadian raid in Spitsbergen, the 1942 raid on Dieppe, the Allied landings in Sicily, the Italian campaign, D-Day and the campaign in Northwestern Europe. His memoirs of the campaigns, published as From Gauntlet to Overlord, won the Governor General's Award for English-language non-fiction in 1945. He later covered the Korean War, and after retiring as a war correspondent became publisher of the Vancouver Daily Province, the Winnipeg Tribune, and the Edmonton Journal. Munro was appointed OBE in 1946 and OC in 1975.
Excellence and objectivity in coverage of the national defence issues, providing insight, analysis, or examination of the context.
Body of work that goes beyond the obvious, ordinary, and the expected. The work shows courage in its quest for truth and broadens the understanding of national defence relationships within Canada and abroad.
Comprehensiveness and quality of information that shows both context and perspective.
Work helps defence issues make sense to a wider audience, maximizing awareness and inspiring debate and dialogue.
Career that exemplifies longstanding ethics and the highest journalistic standards.
Nominations are to contain the following documentation
1. Nomination Form (Click Here)
2. Nomination letter (2 pages max)
3. Nominee's Curriculum Vitae / biographical summary
4. Body of work examples
5. Letters of Support (Optional)
All submissions are considered in confidence by the Conference of Defence Associations Award Committee, and nominations will not be publicly disclosed.  Nominations are accepted in both official languages.
All nominations must be received in full by the nomination deadline of January 31, 2023.
Email – Subject Line: Ross Munro Award Nomination
nominations@cdainstitute.ca
Mail:
Conference of Defence Associations Institute
The Ross Munro Award Selection Committee
900-75 Albert Street, Ottawa, Ontario, K1P 5E7