Congratulations Ambassador Jacqueline O'Neill on being selected as the 31st Vimy Award Laureate!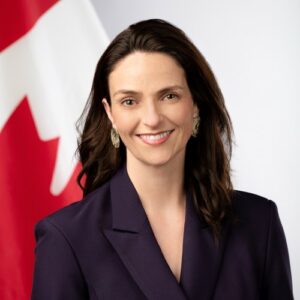 The Conference of Defence Associations Institute is happy to announce the 2023 Laureate of the Vimy Award, Jacqueline O'Neill, Canada's first Ambassador for Women, Peace and Security. The award celebrates significant and outstanding contributions to Canadian security and defence and to the promotion and preservation of Canadian democratic values. Ambassador O'Neill will be honoured at the Vimy Gala in Ottawa on November 8th.
Past laureates of the Vimy Award include Her Excellency the Right Honourable Adrienne Clarkson, the Right Honourable Joe Clark, the late Honourable Bill Graham, and the Honourable Senator Lieutenant-General Roméo Dallaire, among many other deserving Canadians.
The selection committee this year was composed of National Security and Intelligence Advisor Jody Thomas, Deputy Minister of Defence Bill Matthews, Chief of the Defence Staff General Wayne Eyre, as well as members of the CDA Institute community.
Ambassador O'Neill's nomination stood out in many ways. Dozens of letters of support were received from across Canada and from Bangladesh, Sri Lanka, Pakistan, Sudan, Geneva, London, Washington, and New York.  Ambassador O'Neill is a trusted voice that many turn to for advice, advocacy, and action. With her combination of diplomatic skills, operational experience, and ability to form personal connections, she influences collaboration even in the most challenging and contested spaces.
Ambassador O'Neill's work to advise on integrating gender perspectives and increase women's participation in peace and security efforts contributes in a significant way to bridging the divide between government and those around the world on the frontlines of conflict and insecurity.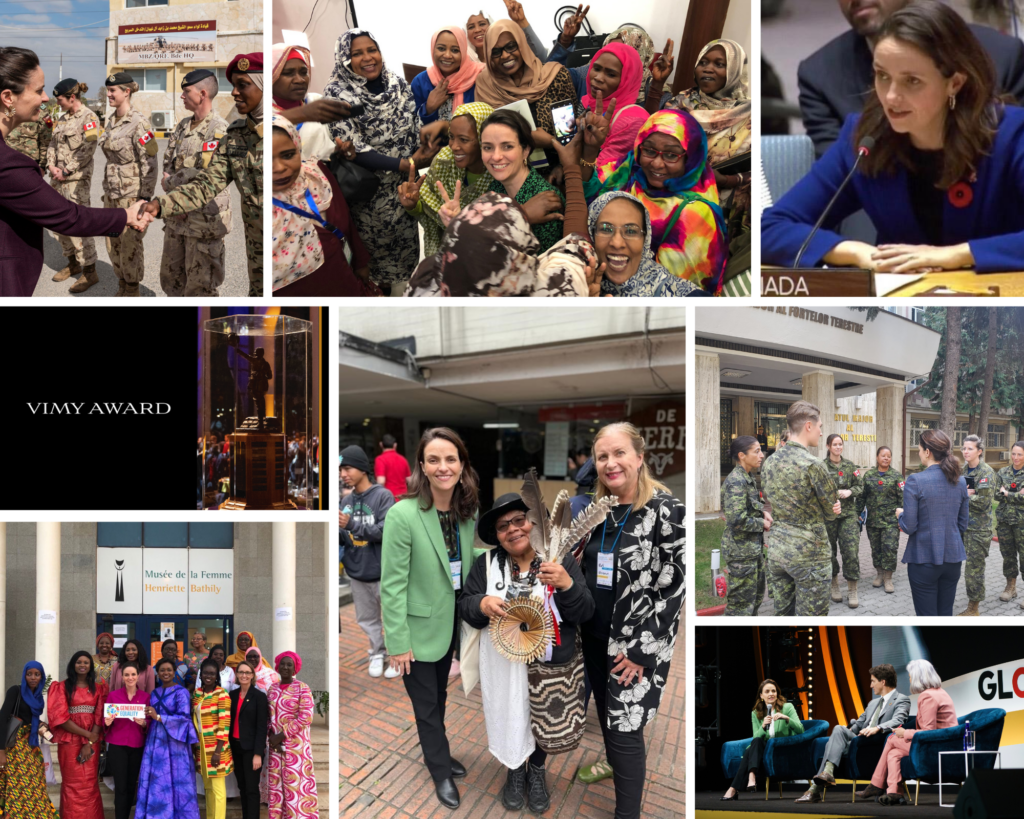 "
Ambassador O'Neill represents the very best of Canada on the world stage. She has shown outstanding leadership in promoting the full, equal and meaningful participation of women in peacemaking, conflict prevention and peacebuilding efforts around the globe.
"
Ambassador O'Neill is the perfect incarnation of the values behind the prestigious Vimy Award. She has shown steadfast leadership, strength, and courage in carrying out Canada's foreign policy and advancing the role of women here in Canada and abroad. She serves as an inspiration for Canadians who want to make the world a better place.
"
"
Ambassador O'Neill life's work has been dedicated to forging paths toward peace and inclusion, and her invaluable support for women leaders in conflict zones, as well as contribution to the founding of the Child Soldiers Initiative, truly embodies the timeless legacy of the Vimy Award.
"
Jacqueline O'Neill is Canada's first Ambassador for Women, Peace and Security. Appointed by the Prime Minister in 2019, she advises the Government of Canada on strengthening its global leadership on Women, Peace and Security and the effective implementation of the National Action Plan on WPS.
Throughout her career, Ambassador O'Neill has supported the creation and implementation of national strategies and policy frameworks for more than 40 countries, NATO, the Organization for Security and Co-operation in Europe, and the United Nations. She helped establish the field of women, peace, and security and its application in governments, security forces, and multilateral organizations.
As President of the Institute for Inclusive Security, Ambassador O'Neill directly supported coalitions of women leaders in Colombia, South Sudan, Sudan, Pakistan, and beyond. Through this work, she advocated for women's meaningful inclusion in peace negotiations, security forces, national political dialogues, and policy making. In her role with the Institute, Ambassador O'Neill advised the Government of Canada on the country's first (2011-2016) and second (2017-2022) national action plans on women, peace, and security.
Ambassador O'Neill worked at the United Nations peacekeeping mission in Sudan and at Khartoum's Ahfad University for Women. Along with former Lt. General Roméo Dallaire, she helped found the Roméo Dallaire Child Soldiers Initiative to eliminate the use of children during conflict. Prior to that, Ambassador O'Neill was a policy advisor to Canada's Secretary of State for the Asia-Pacific region. She was a Global Fellow at the Woodrow Wilson Center's Canada Institute, an Adjunct Professor at Georgetown University, and a member of the board of directors of the Canadian International Council.
Ambassador O'Neill currently serves as the Canadian representative to the G7's Gender Equality Advisory Council and Canada's Sherpa to the Global Partnership for Action on Gender-Based Online Harassment and Abuse.
Jacqueline O'Neill has a bachelor's degree in commerce from the University of Alberta and a master's in public policy from the Harvard Kennedy School of Government.
Thank you to the 2023 Vimy Award Selection Committee
Selection Committee Acting Chair
Gordon Venner, Vice Chair of the CDA Institute, Former Senior Associate Deputy Minister of National Defence
Exclusive Sponsor of the Vimy Award
Chiko Nanji, Group Chairman Metro Supply Chain Group
Standing Invitations
Gen Wayne Eyre, Chief of the Defence Staff
Bill Matthews, Deputy Minister of National Defence
Jody Thomas, National Security and Intelligence Advisor
Members of the CDA Institute Board
VAdm (ret'd) Bob Davidson, Former Canadian Military Representative to NATO
Renée Filiatrault, Former Communications Director to the MND
VAdm (ret'd) Darren Hawco, Former Canadian Military Representative to NATO
Members of the CDA Institute Community
Sharon Adams, Writer, Legion Magazine (retired), Laureate of the CDA Ross Munro Award
Lorraine Ben, VP & Chief Executive, Lockheed Martin Canada (CDA Institute Strategic Partner)
Leigh Harris, Lead Partner, Federal Government, Partner, Management Consulting, KPMG LLP (CDA Institute Strategic Partner)
BGen (ret'd) Dave Quinn, Director of Government Relations, Logistik Unicorp (CDA Institute Strategic Partner)
Dom Spiers, Account Director, Canadian Defence & Public Sector, Dataminr (CDA Institute Strategic Partner)
Dr Leah West, Associate Professor, Carleton University, Captain Nichola Goddard Award Laureate and former Associate Editor at CDA Institute
Selection Committee Secretary (Non-Voting)
Dr Youri Cormier, Executive Director, CDA Institute
November 8, 2023
Canadian War Museum, Ottawa, ON
Celebrating its 31st edition, the Vimy Gala has consistently held its reputation of being the most exclusive defence and security recognition gala of its kind, annually bringing together Senators, Members of Parliament, foreign dignitaries, senior public servants and general and flag officers of the Canadian Armed Forces as well as the business community to remember and honour Canada's fallen heroes and celebrate the lifelong accomplishments of outstanding Canadians in security and defence.