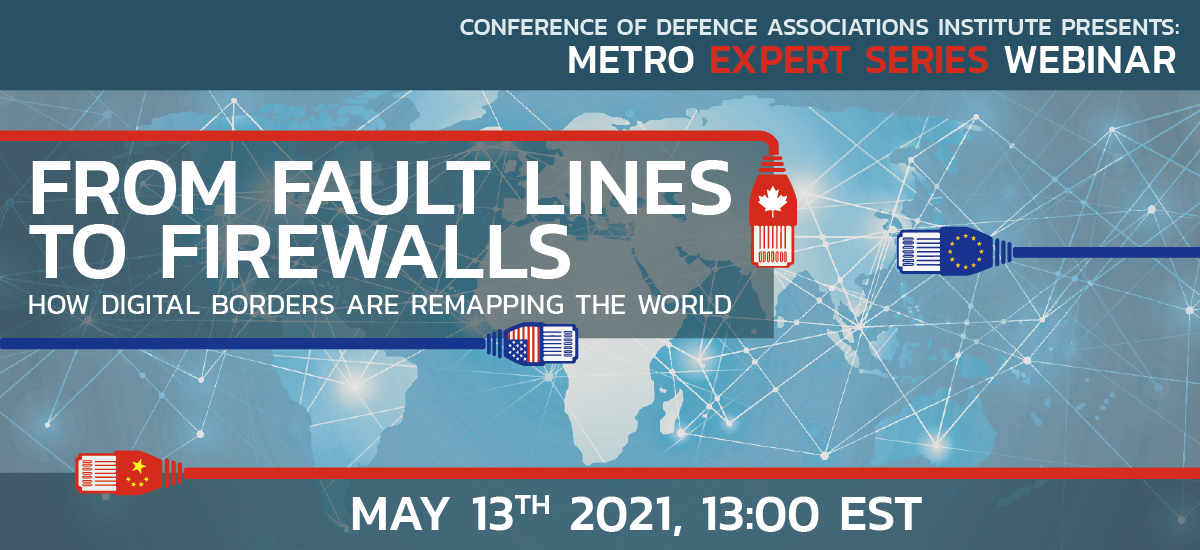 HOW CAN STATES ENSURE CYBER SOVEREIGNTY IN THE AGE OF
CLOUD COMPUTING & GREAT POWER COMPETITION?
Cloud computing is now embedded in contemporary geopolitics. Conflicts are already being waged through the cloud, which is emerging as the latest theatre of economic, military, and diplomatic dispute between states.
Cloud service providers, situated predominantly between the U.S and China, are influencing the direction and speed of global economic growth and shaping international security. They are, in effect, gatekeepers of a technology that is igniting shifts in the global balance of power. The rapid expansion of U.S and China-based cloud infrastructure across the globe is part of the wider technological arms race between the two countries.
As tensions rise, it is likely that states will weaponize the interconnectedness of the cloud for national interest. Data nationalism – efforts by states to ensure sovereign control over data – and data localization, the requirement for domestically localized storage and processing of certain data, are on the rise. This trend, which is in some cases a pushback against excessive foreign dominance and part of a larger effort from states to protect, manage, and control data in a geographically bordered way, also has profound implications for the global economy, international security, and geopolitics.
A handful of cloud service providers situated between two superpowers are dominating the market, thus shaping the contemporary international security environment. However, some argue data protectionism and localization are both detrimental to a free and open cloud, international security, and the global economy. How can states address their legitimate interest to secure protection against foreign interference, promote domestic tech industries, and ensure privacy, while reaping the many benefits of the cross-border flow of data? What impact will great power competition between China and the U.S have on both international security and cyber sovereignty?
MODERATED BY

BRANKA MARIJAN
SENIOR RESEARCHER

PROJECT PLOUGHSHARES
Branka Marijan is a Senior Researcher at Project Ploughshares, a Canadian peace research institute. At Ploughshares, Branka leads the research on the military and security implications of emerging technologies. Her work examines the development of autonomous weapons systems and the impact of artificial intelligence and robotics on security provision and trends in warfare.
She holds a PhD from the Balsillie School of International Affairs with a specialization in conflict and security.
EMILY HARDING

DEPUTY DIRECTOR AND SENIOR FELLOW
INTERNATIONAL SECURITY PROGRAM
CENTRE FOR STRATEGIC AND INTERNATIONAL STUDIES (CSIS)
Emily Harding is deputy director and senior fellow with the International Security Program at the Center for Strategic and International Studies (CSIS). She joined CSIS from the Senate Select Committee on Intelligence (SSCI), where she was deputy staff director. In her nearly 20 years of government service, she has served in a series of high-profile national security positions at critical moments. While working for SSCI, she led the Committee's multiyear investigation into Russian interference in the 2016 elections. During her tenure on the Committee, she also served as the subject matter expert on election security, counterintelligence and associated cybersecurity issues, and the Middle East. She oversaw the activities of 18 intelligence agencies and led SSCI staff in drafting legislation, conducting oversight of the intelligence community, and developing their expertise in intelligence community matters. (read more)
JUSTIN SHERMAN

NONRESIDENT FELLOW
THE ATLANTIC COUNCIL'S CYBER STATECRAFT
INITIATIVE
Justin Sherman is a fellow at the Atlantic Council's Cyber Statecraft Initiative and a contributor at WIRED Magazine. His work focuses on the geopolitics, governance, and security of the global internet. Previously, he was a cybersecurity policy fellow at New America and a fellow at Duke Law School's Center on Law & Technology.
CHIEF TECHNOLOGY OFFICER
MICROSOFT CANADA


John Weigelt leads Microsoft Canada's strategic policy and technology efforts.  Mr. Weigelt helps individuals and organizations across Canada innovate with technology while avoiding the unintended consequences that might arise.  He leads Canadian outreach for a variety of technology policies including: Economic Development, Privacy, Security, Government 3.0, Accessibility, Ai ethics and Interoperability. He also leads Microsoft Canada's Responsible AI program and was one of the authors of Canada's National Standard on Ethics in the Design and Use of Automated Decision Systems. 
LAUREN ZABIEREK

EXECUTIVE DIRECTOR,
CYBER PROJECT
HARVARD KENNEDY SCHOOL'S BELFER CENTER
Lauren Zabierek is the Executive Director of the Cyber Project at Harvard Kennedy School's Belfer Center. She comes to this role as a 2019 graduate of the Kennedy School's mid-career MPA program.
Lauren served as an intelligence officer in the United States Air Force at the beginning of her career.  Later, as a civilian intelligence analyst with the National Geospatial Intelligence Agency (NGA). Throughout her six years at NGA, she became a subject matter expert on Activity Based Intelligence (ABI) and served as an adjunct professor in ABI at the NGA college.
After leaving NGA, she joined the cybersecurity threat intelligence startup Recorded Future, and was instrumental in building its Public Sector business practice. She is the co-founder of the online social media movement called #ShareTheMicInCyber, which aims to dismantle racism and sexism in cybersecurity and privacy