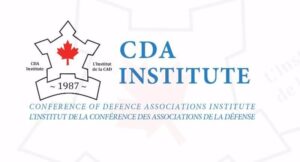 From the CEO / Du PDG
This week, we have learned of the unexpected loss of Dr. Bill Bentley (LCol – retired), RMC Associate Professor, seconded to Canadian Defence Academy.
Bill est décédé le jeudi 10 août suite à un accident tragique. Bill laisse derrière lui deux fils (Zach et Quinn) et un petit-fils. De la part de la communauté de la CAD et de l'Institut de la CAD, nos pensées sont avec lui et sa famille.
Bill's work in the realm of professional development for both the Non-Commissioned Members as well as Officers led to the award of an MSM in 2005, far from the end of his efforts in this domain, but the citation is indicative of the impact that he had and continued to have up to his passing:
"Lieutenant-Colonel Bentley, of the Canadian Defence Academy, is an impressive military political theorist whose experience in operations and strategic policy was central in laying the foundation of today's professional development reform. His vision and leadership were instrumental in the development of seminal works, between 2001 and 2004, that will guide the transformation of the Canadian Forces officer and non-commissioned member corps in the coming decades. Lieutenant-Colonel Bentley's inspiring work on the reform of the Canadian Forces' professional development system reflects outstanding credit to himself, the Canadian Forces and to Canada."
Bill's funeral will be held at the Royal Military College of Canada in Kingston (Currie Hall) on Friday, 18 August at 10 am
Bill will certainly be missed and never forgotten!
On a separate note, I wish to draw our readers' attention to the excellent Defence Analysis article by Charles (Chuck Davies), CDA Institute Fellow, titled: Canadian Defence Industry Exports:
Finding the Balance Point

From our Associations / De nos Associations
C&EA:  The Communications and Electronics Association is proud to announce the first annual Cyber Symposium, bringing together leading cyber experts to explore a wide range of topics in this dynamic field. Invited keynote speakers, moderators and panelists include Mr. Richard Fadden – former Director of CSIS and Deputy Minister of National Defence, General Jonathan Vance – Chief of the Defence Staff, representative of the US Cyber Command, Mr. Dominic Rochon – Deputy Chief Policy and Communications – CSE, Mr. William Galbraith – Executive Director – Office of the CSE Commissioner, Dr. Mourad Debbabi – Concordia University, Dr. Dr. Christian Leuprecht(RMC), Dr. Sylvain Leblanc (RMC), plus CEOs from the Council of Canadian Innovators. The Theme for the Symposium is 'Cyber – Government, Academia, Industry – Our Collective Challenge and Opportunity'.
Topic areas to be covered include:
• Cyber – A National Security Perspective
• The Role of the Canadian Armed Forces in Cyber Operations
• Cyber Operations in Coalition Operations
• The Role of DND/CAF and Industry in Driving Cyber Innovation
• Training and Recruitment Challenge of Cyber Specialists
• The New National Security Legislation and Oversight Framework and Its Impact on Cyber Operations
The Cyber Symposium will be held on 26 October 2017 at the Residence Inn, Kingston, Ontario and will provide an excellent opportunity to share information and to engage others in this ever increasing complex and challenging environment. Registration is open and the full agenda and sponsorship information are available at the link below:
CMIA: The Fifth Annual Canadian Intelligence Conference (CANIC), sponsored by the Canadian Military Intelligence Association (CMIA) will be held in Ottawa on November 7th, 2017. This year's theme will be: "Hybrid Warfare and the implications for Intelligence." Since 2013, CANIC has been the premier Canadian intelligence conference. Previous CANIC programs have included high-level keynote speakers such as the National Security Advisor to the Prime Minister, the Deputy Minister of National Defence, the Chief of the Defence Staff, the Commander of Joint Operations Command and the Commander of Intelligence Command. A very popular event, each Conference to date has been highly successful. This year, CMIA is honoured to host a roster of speakers well qualified to provide unique and enlightening perspectives on an extremely important theme. Don't miss out on this professional opportunity to share information, network, broaden your professional knowledge and engage on challenging issues impacting the Canadian and Allied Intelligence Communities. The programme for the day is attached below; for more information or to register or sponsor go to CMIA-ACRM.ca.
CANIC 2017 Program

DCRA: Having already started on 8 August with the opening of the F-Class World Championships that will conclude this week, the DCRA will be hosting the annual series of championship shooting events at Connaught Ranges in Ottawa from now through to 16 September with the conclusion of the CAF Small Arms Concentration.  Many of the best shots from across Canada, including our young talent, will be shooting for national and international trophies – find the schedule on the DCRA website here: http://www.dcra.ca/index.php

Recent CDA Institute Web Updates/Dernières mises à jour sur le Site internet de l'Institut de la CAD:
CDA Institute Research Fellow Chuck Davies provides some timely reminders on why Canada has a defence industry

De notre Chargé de Recherche Howard Coombs – Aerograms de l'Institut de la CAD / CDA Institute Aerograms – From our Research Fellow Howard Coombs
Below is an article from Jane's Defence Weekly by correspondent Bruce Jones pertaining to Russian Northern Fleet preparations for Exercise ZAPAD and at https://main-ecnpaper-economist.content.pugpig.com/news/20170812/EUROPE/Zapad_ART_12-08-2017_RM6M7NS_18.html is the Economist update regarding the upcoming Russian exercise.  My thanks to Bruce for making his article available.
14-Aug-2017
Russia's Northern Fleet holds preparatory drills ahead of 'Zapad' exercise
Bruce Jones
On 9 August, Russia's Northern Fleet, the most powerful of its four fleets, began a special large-scale exercise as a preparatory phase of the 'Zapad 2017' joint drill scheduled for 14-20 September, the fleet has announced. An indicator of the importance of the exercise is that it is commanded directly by the commander-in-chief of the navy, Admiral Vladimir Ivanovich Korolev, who was appointed in April. About 50 vessels, including submarines and support ships, will take part, as well as aircraft and helicopters from Russia's Aerospace Forces (VKS). Among other planned participants are the nuclear-powered Kirov class battle cruiser Pyotr Velikiy and the Project 941 Typhoon class nuclear ballistic missile submarine Dmitri Donskoy.
The event is aimed at training the naval command according to a single plan. In the first stage of the exercise, a set of target operations against naval bases will be carried out by "anti-subversive sabotage defence forces", during which spetsnaz "underwater sabotage forces and equipment" divers will counter exercise "saboteurs" attempting to penetrate the fleet. The exercise, which will include mine sweeping and submarine warfare, naval support and counter-sabotage activities, will also involve ground forces and aviation. After the successful completion of the exercise, the fleet will be ready to take part in 'Zapad 2017'.
COMMENT: 'Zapad 2017' is billed as a joint strategic exercise, as all its predecessors have been since Soviet times, when drills practised the invasion of western Europe, significant elements of which it continues to include. The question now with this level of Northern Fleet activity is to what extent territories opposite Nordic countries will be involved. Whereas mid-year exercises by airborne forces in north-west Russia may not be unusual, this large preparatory exercise is, and may be unprecedented. Regarding mirror imaging, particular note might be taken of the emphasis on defensive and offensive combat diver operations, to a degree that other nations do not admit to practising themselves, which perhaps indicates the extent to which Russia might envisage deploying such assets against potential foes. Additional small vessels to assist in these defensive tasks have recently been added to the fleets.
'VR Howard"

News around the World / Nouvelles dans le monde
Results from the IISS Shangri-La dialogue, including the session recordings (Canada's MND spoke during the plenary of Day 2) may be found at:
http://www.iiss.org/en/events/shangri-la-dialogue
Robots to the Rescue? Drones Could Help With Arctic Search Operations (Arctic Deeply, 10 Aug)
https://www.newsdeeply.com/arctic/articles/2017/08/10/robots-to-the-rescue-drones-could-help-with-arctic-search-operations
John Ibbitson quotes CDA Insitute Research Fellow Andrea Charron and regular CDA Institute contributor Joel Sokolsky in "North Korea's threat to rain down missiles leaves Canada looking for an umbrella" (Globe and Mail, 11 Aug)
https://www.theglobeandmail.com/news/politics/north-koreas-threat-to-rain-down-missiles-leaves-canada-looking-for-an-umbrella/article35973683/
CDA Institute Research Fellow Elliot Tepper on the situation with North Korea and a Canadian perspective:
1. Should Canada be concerned with North Korea? (CKNW News Radio, 12 Aug)
https://omny.fm/shows/cknw/should-canada-be-concerned-with-north-korea-us-war.
2. Canada in line of fire between North Korea and U.S. (Toronto Sun, 12 Aug)
http://www.torontosun.com/2017/08/12/canada-in-line-of-fire-between-north-korea-and-us
The Liberals' embrace of the Super Hornet is good politics — but bad strategy (iPolitics, 11 Aug)
http://ipolitics.ca/2017/08/11/the-liberals-embrace-of-the-super-hornet-is-good-politics-but-bad-strategy/
Arrestations de membres présumés de l'EI préparant des attentats à Moscou (La Presse, 14 août)
http://www.lapresse.ca/international/dossiers/le-groupe-etat-islamique/201708/14/01-5124358-arrestations-de-membres-presumes-de-lei-preparant-des-attentats-a-moscou.php?
The secret to North Korea's ICBM success (IISS, 14 Aug)
http://www.iiss.org/en/iiss%20voices/blogsections/iiss-voices-2017-adeb/august-2b48/north-korea-icbm-success-3abb
Why the UK Needs to be Thinking Now about a Possible Korean War (RUSI, 15 Aug)
https://rusi.org/publication/newsbrief/why-uk-needs-be-thinking-now-about-possible-korean-war