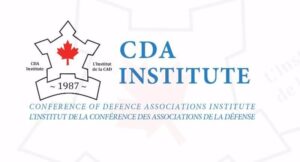 From the CEO / Du PDG
As we draw closer to our next event, Cyber Assurance and Governance on 31 Aug (find details here), I wish to draw the reader's attention to an excellent article released with this week's What's New, titled: Cloud Storage a Perfect Target for Malware Attacks by Mike Belyea.  The author makes excellent observations and recommendations worthy of consideration.
From our Research Director / De notre Directeur de recherche
It is now, what, 2 months since the release of updated Defence Policy, Strong, Secure, Engaged and the initial rush of commentary and analysis has subsided.  As you will have noted from the moment of release however, the CDA Institute has been actively encouraging and supporting an ongoing discussion of the policy to develop a real and broadly supported concensus among Canadians and Canadian political parties that would result in more effective long-term security and defence results.  The wide coast to coast to coast consultation by the Government in building the policy was an important step in identifying some key elements of that consensus, but the momentum created must be carried into the future for it to have lasting positive effect.  The recent blog post by well-known and respected defence commentator David Bercuson (noted below in our World News section) is but the latest of regular and welcome contributions to this discussion; welcome too is his support for building that consensus.
In that same vein of 'encouraging and supporting the discussion' I would like to remind you all of the upcoming Graduate Student Symposium to be held 12-13 October at RMC of Canada, Kingston (links below). Ouvert à tous les étudiants diplômés intéressés par les problèmes de sécurité et de défense au Canada, le délai final pour la soumission des propositions de présentation approche rapidement – le 6 septembre, avec des textes finales en date du 27 septembre.  Please take the time to encourage the students that you know to submit proposals and then commit to attending this unique event focused on developing our next generations of talented, effective security and defence thinkers.
https://cdainstitute.ca/evenements/symposium-des-etudiants-diplomes/?lang=fr
https://cdainstitute.ca/events/graduate-student-symposium/

From our Associations / De nos Associations
RCAA: please follow the links for important information on their AGM:
http://cdacanada.ca/images/Advocacy/RCA%20Board%20and%20RCAA%20AGM%20Agendas%2023%20Aug%20FR.pdf
http://cdacanada.ca/images/Advocacy/RCA%20Board%20and%20RCAA%20AGM%20Agendas%2023%20Aug%20EN.pdf

Recent CDA Institute Web Updates/Dernières mises à jour sur le Site internet de l'Institut de la CAD:

De notre Chargé de Recherche Howard Coombs – Aerograms de l'Institut de la CAD / CDA Institute Aerograms – From our Research Fellow Howard Coombs
1. MULTI DOMAIN BATTLE – THE EMERGING US ARMY/MARINE CORPS FUTURE WAR CONCEPT
Attached are resources pertaining to Multi-Domain Battle – the links are listed in this email. I would like to thank LCol Erik Liebert, currently serving in Ottawa, for providing us with most of these very timely materials and his observations. He also credits Colonel Tod Strickland, now serving in the United States for prompting his interest in these ideas. Erik noted:
"Here is a good overview that was published on War of the Rocks: https://warontherocks.com/2017/06/multi-domain-battle-airland-battle-once-more-with-feeling/. The article presents an outside (IDF) perspective that is critical of the apparent lack of fresh thinking.
Here is an overview that was published by Commander USARTRADOC [US Army Training and Doctrine Command] last month: http://www.armyupress.army.mil/Portals/7/military-review/Archives/English/MilitaryReview_20170831_PERKINS_Multi-domain_Battle.pdf
Here is a copy of the (4-page) White Paper published in TRADOC in February: http://www.tradoc.army.mil/multidomainbattle/docs/MDB_WhitePaper.pdf
Multi Domain Battle (MDB) focuses on the future capabilities and employment of US land forces in a peer or near-peer conflict in the 2025-2040 timeframe. It is informed by the Joint Operating Environment 2035 assessment that was published in July 2016 http://www.dtic.mil/doctrine/concepts/joe/joe_2035_july16.pdf . The concept seeks to leverage joint capabilities to "create temporary windows of superiority across multiple domains and throughout the depth of the battlefield in order to seize, retain, and exploit the initiative; defeat enemies; and achieve military objectives." General Perkins's article explains the underlying logic that is driving the development of this concept."
Also, added is another WoTR article authored by Commander USATRADOC and Commander USARPAC [US Army Pacific] and accessible at https://warontherocks.com/2017/08/multi-domain-battle-tonight-tomorrow-and-the-future-fight/
2. WOTR "Ike's Lament In Search of a Revolution in Military Education"
Available at https://warontherocks.com/2017/08/ikes-lament-in-search-of-a-revolution-in-military-education/ is War On The Rocks' "Ike's Lament In Search of a Revolution in Military Education." It's an aspirational piece discussing possible professional military education models from an American perspective.
I would like to thank Dr. Craig Stone and Colonel (Retired) Alain Pellerin for sharing this material.
"VR Howard"

News around the World / Nouvelles dans le monde/
Counter commentary to the reporting of a potential link between the Ukraine and N Korea missile technology (CACDS, 15 Aug)
http://cacds.org.ua/en/activities/1165%20%D1%82%D0%B0%20http:/cacds.org.ua/ru/safe/news/1162
Ewan Lawson and Veerle Nouwens of RUSI discuss Asian nation participation in UN Peacekeeping (RUSI, 17 Aug)
https://rusi.org/commentary/robust-international-peacekeeping-asia-task
Anne-Marie Bradley of ASPI discusses Chinese interests and activities in the Antarctic (ASPI, 17 Aug)
https://www.aspi.org.au/report/chinas-expanding-interests-antarctica
David Bercuson of the CGAI on the Canadian defence policy (Frontline Defence Blog, 18 Aug)
http://defence.frontline.online/blogs/3836-CGAI-CGAI/7948-Can-Defence-Policy-create-bi-partisan-consensus%3F?utm_source=DEF+News&utm_campaign=b9d02694ed-EMAIL_CAMPAIGN_2017_08_23&utm_medium=email&utm_term=0_5b46236a5b-b9d02694ed-47797785
Emil Dall and Cristina Varriale of RUSI discuss US nuclear weapon placement in S Korea (RUSI, 22 Aug)
https://rusi.org/commentary/roking-boat-us-nuclear-weapons-south-korea
Anthony Bergin of ASPI: Academic work gives national security an intelligent edge. (ASPI, 24 Aug)
https://www.aspi.org.au/opinion/academic-work-gives-national-security-intelligent-edge