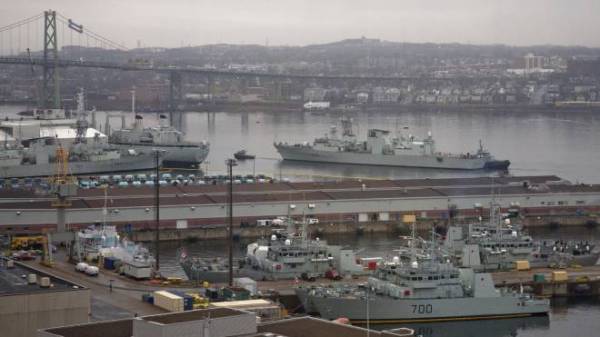 CDA Institute Analyst Oksana Drozdova explores what was discussed at the government's Defence Policy Review roundtable in Halifax.
The government's Defence Policy Review (DPR) has made its way across the country with the last roundtable taking place in Halifax on 28 June 2016 (with two special sessions added at the last minute to consult the defence industry and shed light on gender-​related issues). The public consultation stage of the Review covered a wide range of topics, and came full circle in terms of the themes, issues and challenges addressed and highlighted by the contributors.
Thus far, the five previous roundtables produced a wide range of opinions as to what Canada's defence strategy should look like, presumably leaving little room for the Halifax contributors to shine in terms of the novelty of their submissions. However, this proved not to be the case, as the Halifax roundtable saw some of the most diverse and dynamic submissions presented to the Minister of National Defence.
The bulk of the submissions were concentrated on the role of navy and the importance of Arctic security. Oceans connect Canada to the rest of the world; they provide links with strategic partners, potential adversaries, and rising powers alike. They are, as VAdm Peter Cairns (Ret'd) puts it, vital superhighways for Canada. As such, China's rising power and its maneuvers in the South China Sea represent a perfect example of a challenge, that, if unaddressed, will most likely morph into an asymmetrical, Crimea-​style warfare. Canada's presence – both military and diplomatic – in the South-​Pacific region is much needed.
First of all, as a trade dependant nation, Canada's national security is tied to its economic interests in the Asia-​Pacific region. Economic protection is part of our national security and should therefore be integrated into Canadian defence strategy. Constant dialogue and constructive engagement with China, whether bilaterally or through international institutions, is essential to Canada's economy and national security.
Secondly, the challenge to the existing global order is on the rise. Larger states like Russia and China are rapidly outgrowing international arrangements and are becoming more eager to challenge those constraints. And, while it is important to deter the aggressive actions of such ambitious states, preventative measures should also be put in place to hinder such actions. Engaging with China, whose rising power and growing ambitions encroach on other countries' interests is therefore a vital contribution to international peace, especially when Beijing has already demonstrated its partiality to asymmetrical warfare and apparent disregard for the Permanent Court of Justice's ruling on its claims over the South China Sea.
Finally, engaging in the region with both military and diplomatic efforts will allow the government to truly develop a much needed whole-​of-​government approach. The new Liberal government is ambitious. Its desire to provide national security, cooperate in a meaningful way with allies, and contribute to peacekeeping missions is commendable. However, fiscal constrains do stand in the way. It is therefore crucial to see defence policy as an aspect of foreign policy. Where Canada cannot be with ships or planes, it should be there with other assets, as noted by David Beitelman.
In light of these considerations, the need to work closely with civilian agencies and non-​government stakeholders becomes crucial. LGen The Honourable Roméo Dallaire (Ret'd) pointed out that the CAF would greatly benefit from tapping into some non-​traditional civilian skills and knowledge. Such collaboration can yield several benefits. Firstly, it will provide the CAF with capabilities and opportunities to expand in areas where they are otherwise absent. Modern warfare tactics are shifting away from physical space into cyberspace, where attacks are becoming increasingly more covert and detrimental to national security. Domestic civil security and safety organizations can offer diverse and honed skills. Moreover, they can relieve the undue strain on the military.
The issue of military capabilities – broad-​based or niche oriented – was the overarching theme that shone throughout the six roundtables. However, what truly set the Halifax panel apart was the fact that the contributors did not shy away from addressing more narrow issues that impede the operation of the armed forces. As such, LCdr Heather Mackinnon (Ret'd), a former medical officer who has served in both the Regular and Reserve Forces, called attention to the issue of physical and mental health among both Regular and Reserve Forces personnel. Most notably, she pointed out the need for a seamless medical transition of those who left or were in the process of leaving the service.
While it is extremely important to see what Canada and its armed forces can contribute to world stability and security – be it peacekeeping operations under the auspices of the UN or a commitment to the allied efforts within the NATO framework – it is also crucial to determine how the country will take care of its women and men in uniform carrying out those tremendously difficult tasks.
In a similar vein, Maya Eichler called on the government to concentrate on a particularly sensitive issue for the armed forces today, namely gender parity and the need for a gender-​aware defence policy. Some of her suggestions were well-​placed, such as the integration of a gender-​based analysis into the current DPR. Yet her contribution's overarching thesis was at best somewhat out of place. As a main suggestion, Eichler proposed to adopt a feminist defence policy citing Canada's international obligations under UNSCR 1325, a document that requires parties in a conflict to prevent violations of women's rights, and NATO Directive 40–1, which seeks to mainstream gender into all phases of NATO. While, undoubtedly, Canada has obligations to comply with these directives, they in no way should define our national defence policy.
Stéfanie von Hlatky, who presented her submission to the roundtable in Montréal, also considered the role of gender in security and defence. However, unlike Eichler, she adopted a much more nuanced approach that emphasized particularly weak areas in the armed forces and defence strategy regarding gender inclusiveness and gender awareness. Von Hlatky did not call for an overarching feminist defence policy, but rather emphasized the need to recognize that armed conflicts affect men and women differently. Indeed, the popular misconception that war makes no gender distinctions has led to important blind spots on the role of women in insurgencies and terrorist groups, for example. By realizing these shortcomings, Canada has an opportunity to play a leadership role on military training and education, focused on gender.
The Romeo Dallaire Child Soldiers Initiative's Shelly Whitman (who submitted a written statement but was substituted by LCdr Darin Reeves at the event itself) was also among a group of contributors who truly challenged the idea of traditional warfare and the role of a soldier in both in and outside of military operations. As such, Whitman called on the government's to pay closer attention to the issue of child soldiers in the countries where the CAF conduct peacekeeping or military operations. The recruitment and use of children as soldiers and in criminal enterprises is a devastating practice with far-​reaching consequences – from being an early warning indicator of the structural weakness of a state to being deeply traumatizing for the armed forces undertaking peace support operations in these environments.
With the public consultation phase of Defence Policy Review coming to an end, it is now up to officials and policy makers to mobilize the various ideas that emerged during the round tables and craft a modern and sound defence and security strategy. With the rise of cyber threats and the increasing use of asymmetrical warfare, a comprehensive defence review was overdue; the participants tackled these issues, to be sure, but they also managed to discuss their national and local ramifications and offered solutions that could be applied within the Canadian context.
Oksana Drozdova is an Analyst with the CDAInstitute currently working towards a Master's degree at UOttawa's Graduate School of Public and International Affairs (GSPIA). Her research interests focus on International security, Eastern European studies and issues of statehood in political theory. (Image courtesy of Tim Krockack, Chronicle Herald)