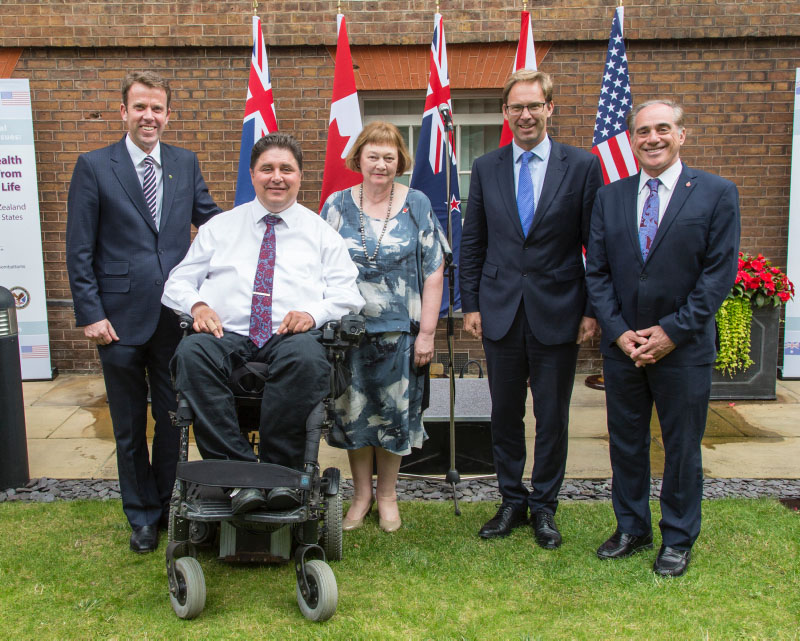 (Photo: Sgt Ross Tilly/UK MOD)
From: Engagement VAC/ACC Engagement VAC/ACC <VAC.Engagement.ACC@vac-acc.gc.ca>
Date: July 24, 2017 at 4:30:41 PM EDT
Subject: Joint Statement: International Ministerial Conference on Veterans' Issues / Déclaration conjointe : Conférence internationale sur les enjeux auxquels sont confrontés les anciens combattants
Minister Hehr recently had the opportunity to participate in the London 2017 International Ministerial Conference on Veterans' Issues with his colleagues from the United States, Australia, New Zealand and the United Kingdom, where the meeting took place.
Please see below the Conference Media Statement prepared jointly by all five participating countries.
—
On 19 and 20 July 2017, Minister for Defence People and Veterans Tobias Ellwood welcomed delegations from the United States, Canada, Australia, and New Zealand to the International Ministerial Conference on Veterans' Issues at the Royal Hospital Chelsea.
Mr Ellwood, The Honourable David Shulkin, US Secretary of Veterans' Affairs, The Honourable Kent Hehr, Canadian Minister of Veterans Affairs and Associate Minister of National Defence, The Honourable Dan Tehan, Australian Minister for Veterans' Affairs and Defence Personnel, Ms Bernadine Mackenzie, the New Zealand Head of Veterans' Affairs, and delegates from all nations came together under a shared commitment to their defence and Veteran communities to discuss Veterans' mental health and transition from military to civilian life.
Delegates were honoured to be hosted at the Royal Hospital Chelsea and to be shown the grounds by the Chelsea Pensioners. Over the course of the two-day conference, the five countries identified many overlapping themes and mutual challenges, including for some nations addressing and treating post-traumatic disorder, rates of suicide and homelessness among Veterans, barriers to mental health care, alternative therapies, Veteran-centric approaches to the provision of services, and early intervention.
Delegates had an opportunity to hear from leading expert, Professor Sir Simon Wessely on Veterans' mental health challenges and were taken by the extent of the research and the key facts and findings. Delegates
also visited the Veterans charity organization 'Stoll' and had an opportunity to speak with United Kingdom Veterans about their experiences transitioning to civilian life.
Delegates recognised that to face these challenges and progress reforms it was essential that evidence based research and data informed policy decisions and implementation. Ministers heard from clinical experts how myths about Veterans' mental health were damaging efforts to encourage Veterans to seek help as early as possible. They agreed that efforts must continue on improving the provision of information to the
Veterans' community and to transform the delivery of support andservices to the defence and Veteran communities in all five nations.
Delegates agreed to establish a network between the five nations to share and undertake research and emerging data, confirming their continuing commitment to collaborate on strategies that recognise, support, and care for the defence and Veteran communities across the five countries. The initial research that will be undertaken will look at risk assessments and prevention strategies for Veterans at risk of suicide.
Ministers thanked the United Kingdom for hosting the meeting and agreed to meet again in Australia in October 2018 to continue the work began at this meeting and to share the outcomes of research undertaken.
——————————————————————————————————————————–
Intervenants et membres du groupe consultatif,
Récemment, le ministre Hehr a eu l'occasion de participer à la conférence internationale ministérielle de 2017 sur les enjeux auxquels sont confrontés les anciens combattants, à Londres, en compagnie de ses homologues des États-Unis, d'Australie, de la Nouvelle-Zélande et du Royaume-Uni, là où la réunion a eu lieu.
Vous trouverez ci-joint le communiqué de presse au sujet de la conférence, émis conjointement par tous les cinq pays participants.
—
Les 19 et 20 juillet 2017, le ministre du personnel de la Défense et des Anciens Combattants Tobias Ellwood a accueilli les délégations des États-Unis, du Canada, de l'Australie et de la Nouvelle-Zélande à
la Conférence ministérielle internationale sur les enjeux auxquels sont confrontés les vétérans au Royal Hospital Chelsea.
Monsieur Ellwood, l'honorable David Shulkin, secrétaire aux Anciens Combattants des États-Unis, l'honorable Kent Hehr, ministre canadien des Anciens Combattants et ministre associé de la Défense nationale,
l'honorable Dan Tehan, ministre australien des Anciens Combattants et du personnel de la Défense, Mme Bernadine Mackenzie, chef du ministère des Anciens Combattants en Nouvelle-Zélande, et des délégués de toutes les nations se sont réunis dans le cadre d'un engagement commun envers leurs communautés de la défense et des vétérans afin de discuter de la santé mentale des vétérans et de leur transition de la vie militaire à la vie civile.
Les délégués ont eu l'honneur d'être accueillis au Royal Hospital Chelsea et de faire une visite des lieux offerte par des militaires retraités du Chelsea. Au cours de la conférence de deux jours, les cinq nations ont pu cerner de nombreux thèmes qui se chevauchent et des défis communs, notamment la question et le traitement de l'état de stress post-traumatique, le taux de suicide et l'itinérance chez les vétérans, les obstacles aux soins de santé mentale, les thérapies non conventionnelles, les démarches axées sur les vétérans à l'égard de la prestation des services, et l'intervention précoce.
Les délégués ont eu l'occasion d'entendre le professeur Sir Simon Wessely, un éminent spécialiste qui a discuté des défis liés à la santé mentale des vétérans. Les participants ont d'ailleurs été impressionnés par l'étendue des recherches, et les faits marquants et les conclusions importantes qui ont été présentés. Les délégués ont également visité l'organisme de bienfaisance pour vétérans « Stoll » et ils ont eu l'occasion de discuter avec des vétérans du Royaume-Uni à propos de leur transition à la vie civile.
Les délégués ont reconnu que pour affronter ces défis et faire avancer les réformes, il est essentiel que les décisions en matière de politiques et leur mise en œuvre soient fondées sur des recherches et des données probantes. Les ministres ont entendu des experts cliniques expliquer comment les mythes entourant la santé mentale des vétérans nuisent aux efforts pour encourager les vétérans à obtenir de l'aide le plus tôt possible. Ils ont convenu de poursuivre les efforts déployés afin d'améliorer la communication de renseignements auprès de la communauté des vétérans, et de transformer les modes de prestation du soutien et des services aux communautés de la défense et des vétérans dans les cinq nations.
En outre, les délégués ont convenu d'établir un réseau entre les cinq nations permettant d'échanger les données nouvelles et de mener des recherches, confirmant ainsi leur engagement soutenu pour collaborer sur
des stratégies visant à reconnaître et à appuyer les communautés de vétérans au sein des cinq nations, et à leur offrir les soins nécessaires. Les recherches initiales qui seront menées porteront sur les évaluations des risques et les stratégies de prévention auprès des vétérans présentant un risque de suicide.
Les ministres ont remercié le Royaume-Uni d'avoir accueilli les participants à la réunion et ont convenu de se rencontrer de nouveau en Australie en octobre 2018 afin de poursuivre le travail amorcé à cette réunion et partager le fruit des recherches entreprises.