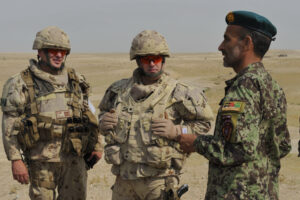 Canada's new defence policy, with its extensive foreign policy undertones, paints a gloomy picture of rising global economic disparity, violent extremism and unstoppable mass migration.  Canada is, it continues, an island of stability in comparison and therefore "called to leadership" as "we have the capacity to help those who live under the threat of violence."
Given this statement of intent, it was curious then that Prime Minister Justin Trudeau so swiftly refused NATO's recent request to provide troops for the ongoing, alliance-led training mission in Afghanistan known as Resolute Support.  It is a mission in which every member of NATO, except for France and Canada, are doing their part.  It was also a curious decision because when it comes to training and advising local forces, Canada's military has proven itself second-to-none, including before in Afghanistan and now in Iraq.
There is no question the Afghan military and police need the sort of training expertise that Canada can provide.  Since taking over the bulk of the fighting in 2014, the Afghans have been under constant assault by the Taliban and other terrorist groups.  In an attempt to turn the tide, U.S. President Donald Trump recently approved the deployment of additional troops to support the 11,000 Americans already in place.
When authorizing the additional troops, President Trump made it clear that America was not nation-building, but instead simply in the business of killing terrorists.  That may be so, but if Afghanistan is to continue its nation-building efforts and reach some sort of stability in the future, its people desperately need time, which is exactly what the U.S. and NATO increase in troop presence should provide.
Of course, every Canadian knows full well the price we have paid in Afghanistan.  The reports of continuing government corruption in Kabul alone are enough for many to suggest just giving up and walking away.  At times, it is a wonder that the Afghan government functions at all.  But look more closely and a good deal has changed and for the better.
The truth is that during the 1980s, we cared not one iota for the Afghan people as long as occupying Soviet soldiers were slaughtered by the thousands.   We did not care when the Taliban came to power.  We did not care after we toppled them.  Real efforts to help the Afghan people did not begin until well after that.  Even then our estimates of success were wildly optimistic.  That is why Afghanistan continues to be one the world's most fragile states and the reason why Canada's diplomats and development workers are still there overseeing some $465 million pledged to Afghanistan for development assistance between now and 2020.
There is no question that training and advising the Afghan military and police is not without danger.  But the risks are not unlike those currently faced in Iraq.  In addition, training missions are ultimately less dangerous.  During the period between March 2011 and May 2014, when our training contingent of some 900 soldiers was in Afghanistan, Canada suffered but a single death.
When it comes to our current international military engagements, we already have substantial missions in Latvia and Iraq, just to name two.  But even a handful of training advisors can make a difference.  Take non-NATO New Zealand for example; ten Kiwis have been working as mentors and support personnel at the Afghan National Army Officer Academy in Kabul and they will soon be joined by three more.
Today, better civilian governance over Afghanistan's security institutions needs to be fostered, operational planning and counter-terrorism skills improved, and medical, engineering, artillery, signals, logistics and intelligence capabilities enhanced.  Amongst this list there are many areas where even a small number of Canadian military advisors could make an important and meaningful contribution.
Unfortunately, it seems the Canadian government's current position has more to do with domestic political considerations than doing the right thing.
~ Dr. Chris Kilford is a Research Fellow with the CDA Institute.  He served in Afghanistan from July 2009 until July 2010 as a senior military officer.
Photo credits: DND, Combat Camera.