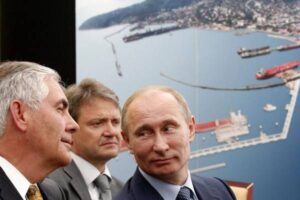 CDA Institute Security & Defence Blogger David Law, a Senior Associate/​Fellow at the Security Governance Group/​Centre for Security Governance in Kitchener, offers his analysis on the increasingly-​complex relationship between Donald Trump and Vladimir Putin with regard to Big Energy. He explores Rex Tillerson's — President-​elect Trump's Secretary of State pick — history as Exxon Mobile's chief and discusses recent difficulties of the global energy sector. This is Part 1 of a two-​part series.
Much of the post-​election chatter in the United States has focused on the relationship between
Donald Trump and Vladimir Putin, and Russia's security services, their role in the US elections of 7 November and whether their intervention sought to favour the Republican candidate at the expense of his Democratic opponent.
For me, this is a no-​brainer. Russia has involved itself in the electoral politics of a host of European Union countries in recent years. Why should Putin think the US to be off limits?
I believe that Trump is either financially in hock to Moscow or that the FSB have kompromat on him or both. I dismiss the idea he is strategically stupid – even if he may prove to be dangerously reckless. You do not get to the White House after defeating 17 other candidates if you are a political neophyte.
Against this background, one of the more titillating nominations for positions in the Trump cabinet is Exxon Mobile chief Rex Tillerson, who is slated to become the next US Secretary of State.
Since the elections, Americans have been served up an almost endless parade of candidates for this post: former New Your Mayor Giuliani, former Republican presidential candidate Romney, former CIA Director Petraeus, Republican Congressman Corker, and most recently Tillerson.
Here Trump has been playing public opinion, wanting Americans to believe that he has had an open mind as to the individual he would eventually put forward as his nominee. In fact, he has been trying to create as favourable a political space for his candidate as possible, who is set to face tough questioning by members of both parties when he goes before the Senate. TREX, as he is also known, has been in my assessment Trump's guy from the outset.
We should understand what Tillerson is all about. He is the extremely successful CEO of the world's largest energy enterprise. Tillerson has made billions for his company by clinching deals
with individuals whom you would probably not want to invite to your next dinner party. Tillerson has been very good at cultivating dictators who were at best only marginally inclined to pass on the benefits accruing from the development of their national energy sectors to their populations.
This same Tillerson has been very active on the Russian energy scene since the 1990s. In 2013, shortly after concluding a US $ 650 million exploration deal in the Russia Arctic, the sanctions imposed on Moscow for its subversive actions in Ukraine put the project on ice.
Tillerson's partner in these ventures has been Igor Sechin, the head of the Russian state energy giant Rosneft. Sechin is a Putin confident who shares a background with the Russian President in their country's security services. He has also held a number of key positions in government.
The American and Russian CEOs face a common problem. Their corporate fortunes have fallen precipitously in recent years. The sanctions against Russia have had a big part in this but they are by no means the whole story.
In the US, as solar– and wind-​based energy generation has gathered steam, the cost of non-​carbon energy sources has become increasingly competitive. At the same time, during the Obama Administration a raft of regulations have been put in place that have sought to reduce the detrimental environmental impact of energy sources extracted from the ground, coal in particular. This has added costs to the budgets of actors such as Exxon Mobil. The centrepiece of the regulation effort has been the Paris Agreement on Climate Change agreed by 196 states in December 2015.
In addition, new carbon-​based products have come onto market. In the US, fracking has made vast new energy resources available. While the environmental impact of fracking is a subject of much controversy, it is much less labour intensive and much cheaper than other
non-​reutilizable energy sources. In part because of fracking, the US again became an energy exporter in late 2015.
At the other end of the world, Russia has also had to contend with a weakening of demand for its energy exports on the part of traditional customers and, in particular, China as the pace of its economic growth has slowed. Then too, the phasing out of the sanctions against Iran has allowed the latter to again bring its oil to the international market. But the sanctions against Russia itself have probably hit the hardest. Already reeling from the fall in the price of crude, Russia has also not been able to import the Western technology that its energy sector craves to modernize and become more cost effective.
For some thoughts on how these trends might be reversed, see Part II of this post.
David Law, a former Head of the NATO Policy Planning Unit, is a Senior Fellow with the Centre for Security Governance.

(Photo by MIKHAIL KLIMENTYEV/​AFP/​Getty Images)