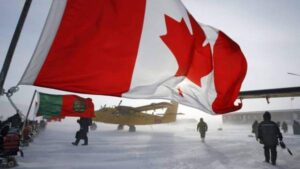 CDA Institute Guest Contributor Eric Dion a veteran and PhD candidate in management offers his insights and synergistic thoughts for Canada's ongoing Defence Policy Review.
Canada is currently reviewing its Defence Policy. As with the arrival of every new federal government in recent history, this policy exercise has been an ongoing process. A public consultation was launched on 6 April 2016. Experts and citizens were thus invited to submit their views during public forums and online. As such, ten questions were asked:
Are there threats to Canada's security that are not being addressed adequately?
What roles should the Canadian Armed Forces play domestically, including in support of civilian authorities?
How should Canada-​United States cooperation on defence of North America evolve in the coming years?
What form should the

CAF

contribution to peace support operations take? Is there a role for the

CAF

in helping to prevent conflict before it occurs?
Should the size, structure, and composition for the Canadian Armed Force(s) change from what they are today?
How can

DND

and the

CAF

improve the way they support the health and wellness of military members? In what areas should more be done?
Should Canada strive to maintain military capability across the full spectrum of operations? Are there specific niche areas of capability in which Canada should specialize?
What type of investments should Canada make in space, cyber, and unmanned systems? To what extent should Canada strive to keep pace and be interoperable with key allies in these domains?
What additional measures could

DND

undertake, along with partner departments, to improve defence procurement?
What resources will the

CAF

require to meet Canada's defence needs?
This paper constitutes a submission to the Defence Policy Review Committee and may be found here.
Originally submitted on 3 June 2016, and slightly updated since, it answers each of the ten questions, however shifting paradigms for a more integrated synergistic perspective.
Consisting of pragmatic thinking, it also offers a theoretical model for decision-​making. In essence, it presents many innovative ideas for the synergistic management of Defence and its main idea is to make decisions and act principally where synergy can be achieved. Such Comprehensive Approach should of course work toward Canada's Global Defence.
Click here to read more of the CDA Institute's analyses on the Defence Policy Review