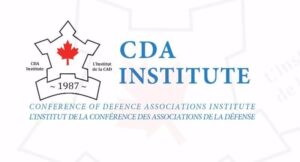 From the CEO:
With the arrival of summer, most of us fire-up our BBQ, enjoy leisure time at our cottages, lakes, beaches, mountains, prairies, and all the innumerable wonderful things that Canada offers.  Millions of visitors also come to enjoy our great country with its amazing people who over the centuries have made Canada their home, joining Canada's first citizens – our indigenous peoples –  in celebrating a special milestone, 150 years since Confederation, tout en soulignant le 375ième anniversaire de la ville de Montréal.  This is also a time to reflect on how fortunate we all are living in Canada and enjoying a magnificent way of life and to open our arms to those less fortunate.  It is a time to reflect on our continued prosperity and contribution to both our own security and to help others achieve a better life for themselves around the world.
At the Conference of Defence Associations and the CDA Institute we have also been busy analysing and commenting on the recently publicized Defence Policy – Strong, Secure, Engaged.  Je tiens à vous signaler l'analyse de Chuck Davies, un de nos Chargés de recherche de l'Institut de la CAD dans cet édition. Je crois que vous aller apprécier son travail.
Aujourd'hui même, j'ai eu le plaisir de faire partie d'un groupe de discussion avec le général Ray Henault, Matthew Overton et Chuck Davies au Club Rideau, invitées par l'Ambassadeur Belge au Canada, Raoul Delcorde, qui a accueilli le cours du collège d'État-major de la Belgique.  Nous avons partagés avec eux nos observations sur notre nouvelle Politique de la défense ainsi que de parler de notre beau pays, incluant l'Arctique canadien.  C'était la première fois que les membres de ce cours viennent au Canada dans les deux dernières décennies !
Enjoy our latest What's New and have a great, safe summer!

Recent CDA Institute Web Updates/Dernières mises à jour Web de l'Institute de la CAD:
CDA Institute Research Fellow Chuck Davies reviews the new Defence Policy
http://cdainstitute.ca/cda-institute-analysis-how-does-canadas-new-defence-policy-measure-up-by-colonel-retd-charles-davies/
The CDA Institute is pleased to be hosting former US Ambassador to Canada, Bruce Heyman, for a discussion where he will provide his assessment on Russia, North Korea, Venezuela and the US-Canada Security and Defence relationship.
http://cdainstitute.ca/events/roundtables-and-special-events/special-event-with-former-ambassador-to-canada-bruce-heyman/
From our Associations:
CMEA: Request from VAC for nominations of a Dieppe Sapper veteran to attend the 75th Anniversary commemorations of the Dieppe Raid.
https://cmea-agmc.ca/seeking-sapper-veterans-ww-ii-dieppe-raid-UPDATE
The links to the VAC site / Les liens aux site du ACC:
http://www.veterans.gc.ca/eng/remembrance/history/second-world-war/dieppe-raid/75-anniversary/events-in-france
http://www.veterans.gc.ca/fra/remembrance/history/second-world-war/dieppe-raid/75-anniversary/events-in-france

CDA Institute Aerograms – From our Research Fellow Howard Coombs
Attached and available at https://www.theatlantic.com/technology/archive/2017/06/tan-books/530319/ is the recent Atlantic article that examines the dilemma of historical research in contemporary operations. In doing so, I believe it highlights the challenges of keeping all types of records of military operations.
"VR Howard"

News around the World:
CDA Institute Council of Advisors member Richard Cohen notes that in his view, not much has changed since the last defence policy (MLI Inside Policy, 12 Jun)
http://www.macdonaldlaurier.ca/strong-secure-and-engaged-more-of-the-same-richard-cohen-for-inside-policy/
"After 70 years, Japan may finally be on the cusp of acquiring its own military. Legally, that is." (Japan Times, 13 Jun)
http://www.japantimes.co.jp/opinion/2017/06/13/commentary/japan-commentary/giving-japan-military/#.WUka-VTyuUl
Donald Trump reverses Barack Obama's Cuba policy (New Yorker, 16 Jun)
http://www.newyorker.com/news/daily-comment/donald-trump-reverses-barack-obamas-cuba-policy
Noting the MFA Freeland speech particularly, the NY Times opines "Allies start planning a life without America" (NY Times, 17 June)
https://www.nytimes.com/2017/06/17/opinion/sunday/allies-start-planning-a-life-without-america.html