Vimy Gala
November 8, 2023

Celebrating its 31st edition, the Vimy Gala has consistently held its reputation of being the most exclusive defence and security recognition gala of its kind, annually bringing together Senators, Members of Parliament, foreign dignitaries, senior public servants and general and flag officers of the Canadian Armed Forces as well as the business community to remember and honour Canada's fallen heroes and celebrate the lifelong accomplishments of outstanding Canadians in security and defence.
Event Details
November 8, 2023
1 Vimy Place, Ottawa, ON K1A 0M8
Sequence of Events
Chairman's Circle VIP Champagne Private Reception (by invitation only) : 1700-1745
Vimy Gala Reception: 17:30-1900
Dinner and Award Ceremony: 1900-2100
HOSTED GUEST PROGRAM
We are happy once again to provide the Hosted Guest Program which allows table holders to donate seats (in divisions of 2) to share the Vimy Gala experience with key stakeholders in our community. If you are interested, please let us know and we will help you find and connect with the right match. Program participants include:
Currently serving general and flag officers 

Veterans from the Perley Rideau Health Centre 

Royal Military College Officer Cadets
Volunteer Member of the CDA Institute Board of Directors
RESERVE YOUR TABLE & SPONSORSHIP
To learn more about securing your table and sponsorship, which includes access and visibility benefits at the Vimy Gala, please contact Jennifer Giguere at jennifer@cdainstitute.ca or via phone at 819-665-4444.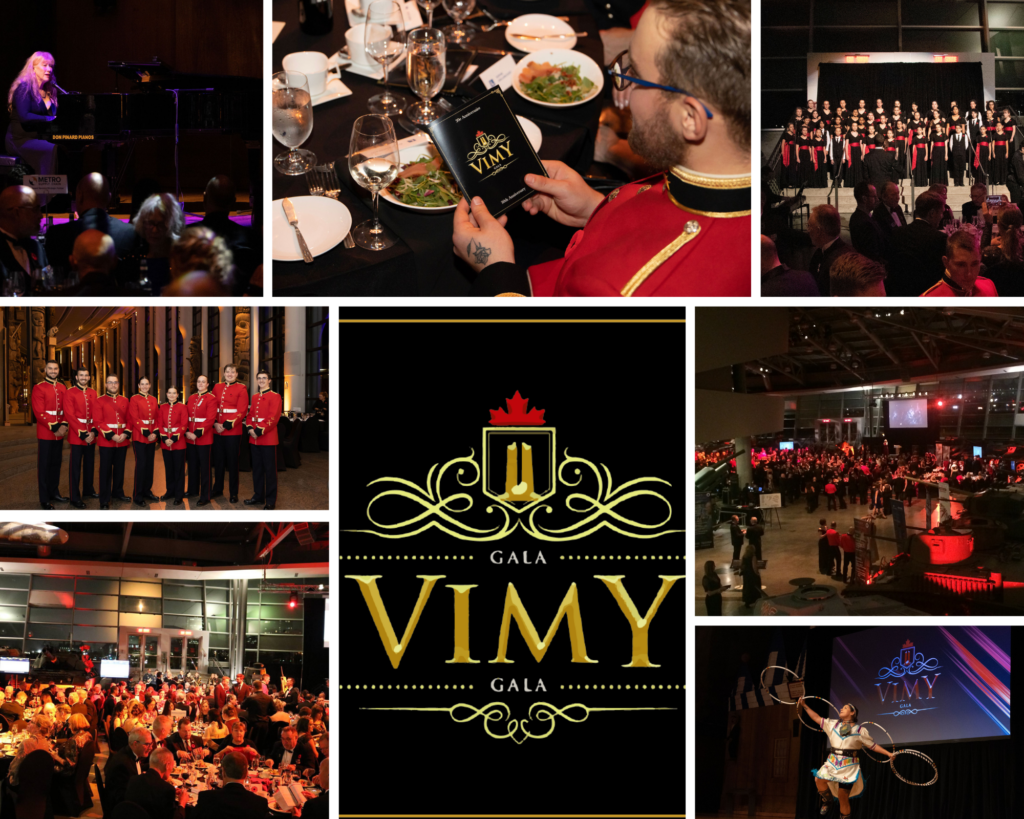 Ambassador Jacqueline O'Neill Vimy Award Laureate 2023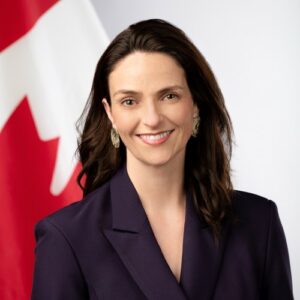 The Conference of Defence Associations Institute is happy to announce the 2023 Laureate of the Vimy Award, Jacqueline O'Neill, Canada's first Ambassador for Women, Peace and Security. The award celebrates significant and outstanding contributions to Canadian security and defence and to the promotion and preservation of Canadian democratic values. Ambassador O'Neill will be honoured at the Vimy Gala.
Ambassador O'Neill's nomination stood out in many ways. Dozens of letters of support were received from across Canada and from Bangladesh, Sri Lanka, Pakistan, Sudan, Geneva, London, Washington, and New York.  Ambassador O'Neill is a trusted voice that many turn to for advice, advocacy, and action. With her combination of diplomatic skills, operational experience, and ability to form personal connections, she influences collaboration even in the most challenging and contested spaces.
Ambassador O'Neill's work to advise on integrating gender perspectives and increase women's participation in peace and security efforts contributes in a significant way to bridging the divide between government and those around the world on the frontlines of conflict and insecurity.
Thank you to the 2023 Vimy Award Selection Committee
Selection Committee Acting Chair
Gordon Venner, Vice Chair of the CDA Institute, Former Senior Associate Deputy Minister of National Defence
Exclusive Sponsor of the Vimy Award
Chiko Nanji, Group Chairman Metro Supply Chain Group
Standing Invitations
Gen Wayne Eyre, Chief of the Defence Staff
Bill Matthews, Deputy Minister of National Defence
Jody Thomas, National Security and Intelligence Advisor
Members of the CDA Institute Board
VAdm (ret'd) Bob Davidson, Former Canadian Military Representative to NATO
Renée Filiatrault, Former Communications Director to the MND
VAdm (ret'd) Darren Hawco, Former Canadian Military Representative to NATO
Members of the CDA Institute Community
Sharon Adams, Writer, Legion Magazine (retired), Laureate of the CDA Ross Munro Award
Lorraine Ben, VP & Chief Executive, Lockheed Martin Canada (CDA Institute Strategic Partner)
Leigh Harris, Lead Partner, Federal Government, Partner, Management Consulting, KPMG LLP (CDA Institute Strategic Partner)
BGen (ret'd) Dave Quinn, Director of Government Relations, Logistik Unicorp (CDA Institute Strategic Partner)
Dom Spiers, Account Director, Canadian Defence & Public Sector, Dataminr (CDA Institute Strategic Partner)
Dr Leah West, Associate Professor, Carleton University, Captain Nichola Goddard Award Laureate and former Associate Editor at CDA Institute
Selection Committee Secretary (Non-Voting)
Dr Youri Cormier, Executive Director, CDA Institute
Vimy Award Laureates (1991-2022)
1991 Joe Clark, Right Honourable | 1992 John de Chastelain, General |1993 Lewis MacKenzie, Major-General |1994 William Howard, Major-General | 1995 Roméo Dallaire, Major-Général |1996 Jack Granatstein, Doctor | 1997 Brian Dickson, Right Honourable | 1998 Larry Murray, Vice-Admiral | 1999 Charles H. Belzile, Lieutenant-général | 2000 Barnett Danson, Right Honourable | 2001 Leonard Birchall, Air Commodore | 2002 John Allen Fraser, Colonel, the Honourable | 2003 Paul David Manson, General | 2004 David Bercuson, Doctor | 2005 Gordon Hamilton Southam |  2006 David Fraser, Brigadier-General | 2007 Ray Henault, General | 2008 Rick Hillier, General | 2009 William Kenneth MacDonald, Warrant Officer | 2010 Adrienne Clarkson, Right Honourable | 2011 Jonathan Vance, Major-General | 2012 Federick Mannix, Honorary Colonel | 2013 Don Macnamara, Brigadier-General | 2014 Blake Goldring, Honorary Colonel | 2015 Hugh Segal, Senator | 2016 James Boutilier, Doctor | 2017 William Graham, Right Honourable | 2018 Christine Whitecross, Lieutenant-General | 2019 Richard Fadden, OC |2020 J.O. Michel Maisonneuve, Lieutenant-général