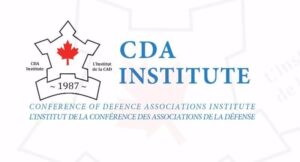 From the CEO / Du PDG
I wish to highlight the official announcement of my successor by the Executive Council of the CDA and the Board of Directors of the CDA Institute.  I join the entire security and defence community in wishing Matthew Overton our very best as he takes over responsibilities on 14 September.  I also take this opportunity to thank one and all for the tremendous support I have received during my tenure.  It has been one big highlight for me!
Je tiens à souligner l'annonce officielle de mon successeur par le Conseil exécutif de la CAD et le Conseil d'administration de l'Institut de la CAD. Je me joins à l'ensemble de la sécurité et de la défense pour souhaiter à Matthew Overton nos félicitations pour ses nouvelles responsabilités, qu'il entreprendra le 14 septembre. Je saisis également cette occasion pour remercier tous et chacun pour le grand soutien que j'ai reçu pendant mon mandat!
I also wish to highlight the excellent and timely article on North Korea by our Research Analyst, Chris Cowan!
Tony Battista
"The Executive Council of the Conference of Defence Associations (CDA) and the Board of Directors of the CDA Institute are pleased to announce that BGen Matthew Overton (retired) has been selected as Executive Director of the CDA and the CDA Institute. He will take over from the outgoing Chief Executive Officer, Tony Battista, effective 14 September 2017. Matthew was selected following a competitive and open search by a special nomination committee. The CDA and CDA Institute also thank all those who applied for this important position.
Matthew served for over 39 years in the Canadian Armed Forces, having been stationed, participated in training or otherwise travelled on duty to every territory and province in Canada as well as many countries around the world.
A graduate of the Regular Officer Training Program (ROTP), he served in battalions of the PPCLI and the R22eR, including the command of the 2nd Battalion Princess Patricia's Canadian Light Infantry. His broader service included duties with the Deputy Chief of the Defence Staff Group as an operational planner and within the ADM (Personnel) Group in a variety of areas. As senior cadre in Military Personnel Command, he commanded the CF Recruiting Group, served as Director-General Military Careers and Assistant Chief of Military Personnel Command. In addition to service overseas on operational deployments, he was appointed to defence diplomacy posts as the Military Advisor at the Canadian High Commission in London, Defence Attaché in Kabul and then Defence Advisor at the London High Commission once more as the capstone to his career.
Matthew holds a BA in Physics and Oceanography from Royal Roads Military College and an MA in War Studies from the Royal Military College of Canada. A graduate of the National Security Studies Program at the Canadian Forces College, he is also a Certified Human Resources Leader (CHRL) of the Human Resources Professional Association (HRPA).
On behalf of all members, contributors, donors, sponsors and supporters of the CDA and the CDA Institute, as well as the broader Security and Defence community, we extend a warm welcome to Matthew!"
Both organizations would also like to express their sincere appreciation to Tony Battista for his dedicated leadership, commitment and service for almost four years as the CEO of the CDA and CDA Institute. The organizations have progressed significantly during his tenure. We wish him best success in all future endeavours.
Le Conseil exécutif de la Conférence des associations de la Défense (CAD) et le Conseil d'administration de l'Institut de la CAD sont heureux d'annoncer que le Bgén Matthew Overton (retraité) a été choisi comme directeur exécutif de la CAD et de l'Institut de la CAD. Il succédera au P-DG sortant, Tony Battista, à compter du 14 septembre 2017. Matthew a été sélectionné à la suite d'une recherche concurrentielle par un comité de nomination. Nous remercions également tous ceux qui ont fait application pour ce poste important.
Matthew a servi pendant plus de 39 ans dans les Forces armées canadiennes, ayant été muté, participé à l'entrainement ou agit en fonction officielle dans chaque province et territoire au Canada ainsi que plusieurs autres pays.
Diplômé du programme de formation des officiers de la Force régulière, il a été officier de bataillon avec le PPCLI et le R22eR, y compris le commandement du 2e bataillon, Princess Patricia's Canadian Light Infantry. Parmi ses nombreuses missions variées, il a servi avec le groupe du Sous-chef de l'état-major de le Défense comme planificateur opérationnel et dans le groupe SMA (Personnel) dans plusieurs postes. Membre du cadre senior du Commandement du personnel militaire, il a eu le privilège de diriger le Groupe de Recrutement des FC, ainsi que d'être Directeur-général des carrières militaires, et Adjoint-Chef du personnel militaire. En plus de son service outre-mer lors de déploiements opérationnels, il a été nommé à la diplomatie de la défense comme conseiller militaire au haut-commissariat du Canada à Londres, attaché de défense à Kaboul, et finalement comme le conseiller à la défense au Haut-commissariat à Londres pour couronner sa carrière.
Matthew est titulaire d'un baccalauréat en physique et en océanographie du Royal Roads Military College et une maîtrise en études sur la conduite de la guerre du Collège militaire royal du Canada. Diplômé du Programme des études en sécurité nationale du Collège des Forces armées canadiennes, il est également un Leader des Ressources Humaines Agréé (CHRL) de la Human Resources Professional Association (HRPA).
Au nom de tous les membres, collaborateurs, donateurs, commanditaires et partenaires de la CAD et l'Institut de la CAD, de même que tous ceux du milieu de la sécurité et de la défense, nous souhaitons la bienvenue à Matthew!
Les deux organisations souhaitent également exprimer leur sincère appréciation à Tony Battista pour son leadership, son engagement et son service dévoués pendant presque quatre ans en tant que P-DG de la CAD et de l'Institut CAD. Les organisations ont considérablement progressé au cours de son mandat. Nous lui souhaitons le meilleur succès dans tous ses projets futurs."

From our Research Director and Senior Editor / De notre Directeur de recherche et Editeur en chef
I am very pleased and excited that the Executive Council of the CDA and Board of Directors of the CDA Institute have selected me to become the Executive Director here at the National Office as Tony departs.  The CDA and CDA Institute play important roles in supporting and encouraging the security and defence discussion from coast to coast to coast in Canada that is also connected to the world; I look forward to continuing and building on Tony's excellent work reinforcing and extending the strong base of expertise and respected commentary that has been a hallmark of these two organisations since their creation in 1932 and 1987 respectively.  I am thankful for the opportunity to be part of the leadership for the CDA and CDA Institute teams as we focus on the security and defence of Canada and Canadians, at home and around the globe.
Je suis très heureux et enthousiaste que le conseil exécutif de la CAD et le conseil d'administration de l'Institut de la CAD m'ont choisi pour occuper le poste de directeur exécutif ici au bureau national alors que Tony part.  La CAD et l'Institut de la CAD jouent des rôles important dans le soutien et l'encouragement de la discussion sur la sécurité et la défense de côte à côte à côte au Canada, qui est également reliée au monde; je suis impatient de poursuivre l'excellent travail de Tony à renforcer et étendre la solide base d'expertise et les commentaires respectés qui ont été des caractéristiques de ces deux organisations depuis leur création en 1932 et 1987 respectivement.  Je suis reconnaissant de l'opportunité de faire partie du leadership des équipes de la CAD et de l'Institut de la CAD alors que nous nous concentrons sur la sécurité et la défense du Canada et des Canadiens, chez nous et dans le monde entier.
This week, I would like to highlight our upcoming Special Event on Cyber Assurance and Governance, in collaboration with KPMG, 31 August.  Click the link for further details / Cette semaine, je voudrais souligner notre prochain événement spécial sur Cyber Assurance et la gouvernance, en collaboration avec KPMG, le 31 août. Cliquez sur le lien pour des plus amples détails /
http://cdainstitute.ca/product/cyber-assurance-and-governance/
For our members and readers with a keen interest in discussions on contemporary peace operations/peacekeeping, a link to the upcoming PACS-Can workshop that will be held in Waterloo this coming September:
http://pacscan.ca/en/pacs-can-peacekeeping-workshop/

From our Associations / De nos Associations
CMIA: The Fifth Annual Canadian Intelligence Conference (CANIC), sponsored by the Canadian Military Intelligence Association (CMIA) will be held in Ottawa on November 7th, 2017. This year's theme will be: "Hybrid Warfare and the implications for Intelligence." Since 2013, CANIC has been the premier Canadian intelligence conference. Previous CANIC programs have included high-level keynote speakers such as the National Security Advisor to the Prime Minister, the Deputy Minister of National Defence, the Chief of the Defence Staff, the Commander of Joint Operations Command and the Commander of Intelligence Command. A very popular event, each Conference to date has been highly successful. This year, CMIA is honoured to host a roster of speakers well qualified to provide unique and enlightening perspectives on an extremely important theme. Don't miss out on this professional opportunity to share information, network, broaden your professional knowledge and engage on challenging issues impacting the Canadian and Allied Intelligence Communities. The programme for the day is attached below; for more information or to register or sponsor go to CMIA-ACRM.ca.
Respect: EN HONNEUR ET À L'APPUI DE NOS TROUPES ET VÉTÉRANS
Madame Ginger Petty invite cordialement tout le personnel militaire, les vétérans canadiens, leurs conjoint(e)s et enfants ainsi que le personnel aidant un pique-nique BBQ
IN HONOUR AND SUPPORT OF OUR TROOPS AND VETERANS
Mrs. Ginger Petty cordially invites our Canadian military personnel, veterans, their spouses, children and caregivers to a BBQ picnic at
Le Domaine Petty / The Petty Estate
SAMEDI/SATURDAY, 19 août/August, 19, 2017
DE/FROM 11H00 à/to 17H00
La nourriture et les boissons sont offertes gratuitement
Tenue décontractée, aucun uniforme – apportez vos serviettes et vos maillots de bain pour la bagnaide.
Food and Beverages provided free of charge
Dress casual, no uniforms – bring towels and bathing suits for swimming
L'ESPACE EST LIMITÉ – RSVP REQUIS
(RSVP confirmer votre participation et je vous envoie l'adresse)
SPACE IS LIMITED – RSVP REQUIRED
(Please confirm your attendance and I will forward the address)
ou/or
Appel/call Steve @ 514-919-5858
https://www.facebook.com/respectcanada/?hc_ref=ARQXM5bL2_XSwSkOUzdmMppCLg67FKl3vQWoT-1HshbJW-tR9p1yhVhq7s9yJnIr92g&fref=nf

Recent CDA Institute Web Updates/Dernières mises à jour sur le Site internet de l'Institut de la CAD:
http://cdainstitute.ca/cowan-how-i-learned-to-start-worrying-about-kims-atomic-bombs-north-koreas-icbm-tests-and-the-implications-for-canada/
For more perspective on North Korea, check News Around the World / Nouvelles dans le monde.

De notre Chargé de Recherche Howard Coombs – Aerograms de l'Institut de la CAD / CDA Institute Aerograms – From our Research Fellow Howard Coombs
1. CrisisWatch | Tracking Conflict Worldwide
Available at https://www.crisisgroup.org/crisiswatch is the July edition of CrisisWatch providing a retrospective of conflict situations for that month. An overview is below.
July saw Venezuela's political turmoil worsen as the government pressed ahead with an election for an all-powerful constituent assembly, prompting fears of further violence and economic collapse. Political tensions rose in the run-up to polls in Kenya as Al-Shabaab intensified attacks. Grievances in the security forces led to more violence in Côte d'Ivoire and Zambia's president imposed emergency rule. In Yemen, fighting between Huthi rebels and the Saudi-led coalition escalated, raising the risk of worse bloodshed in August, while in both South Sudan and Mali deadly clashes strained fragile peace processes. Talks between Greek and Turkish Cypriot leaders to reunify the divided island collapsed. In East Asia, North Korea's launch of two inter-continental ballistic missiles added to growing regional and international concern over the threat posed by Pyongyang.
July 2017 TRENDS
Deteriorated Situations
Côte d'Ivoire, Cyprus,Kenya, Korean Peninsula, Mali, South Sudan, Venezuela, Yemen, Zambia
Improved Situations
None
August 2017 OUTLOOK
Conflict Risk Alert
Venezuela, Yemen
Conflict Resolution Opportunity
None
2. CDA Institute Aerogram: While Americans Fight the Taliban, Putin Is Making Headway in Afghanistan | RAND
Available at https://www.rand.org/blog/2017/07/while-americans-fight-the-taliban-putin-is-making-headway.html is the RAND blog "While Americans Fight the Taliban, Putin Is Making Headway in Afghanistan."
Russian Resurgence in Afghanistan?
Almost 30 years after the Soviet withdrawal from Afghanistan, Russia is remaking its image in the war-torn country, says RAND's Arturo Muñoz. How? By ramping up political, economic, and propaganda activities and exploiting Afghan disappointment with the United States.
3. COS US Army Reading List Released "The Army Chief of Staff wants you to get a head start on preparing for the next big war"
By Meghann Myers, Army Times, August 9, 2017
Urban warfare. Near-peer adversaries. Russia. Korea.
Those buzz words are in the news constantly, so Army Chief of Staff Gen. Mark Milley wants bookworm soldiers to brush up on what they mean for the future of the military.
Milley released his 2017 professional reading list on Wednesday, and it is stacked with expert warnings about what's to come.  "We are the strongest land force in the world, and that strength is not only found in our physical prowess, but also in our intellectual capacity," he wrote in a Facebook post. Titles include:
The Accidental Superpower: The Next Generation of American Preeminence and the Coming Global Disorder
Another Bloody Century: Future Warfare
The Big Stick: The Limits of Soft Power and the Necessity of Military Force
Concrete Hell: Urban Warfare from Stalingrad to Iraq
The Future Declassified: Megatrends That Will Undo the World Unless We Take Action
Superpower: Three Choices for America's Role in the World
The list isn't all doom and gloom, though. This year's books are organized into six categories: Strategic Environment, Regional Studies, History and Military History, Leadership, Army Profession and Fiction. For those looking for a leg up on their career or read a good story rather than wanting to mastermind future warfare, there are titles like "Leaders Eat Last: Why Some Teams Pull Together and Others Don't" and "Ghost Fleet: A Novel of the Next World War."  And for those just getting into military literature, there are the old standbys: Carl von Clausewitz's "On War" and Sun Tzu's "The Art of War."
Link to Reading List: tiny.cc/sfo0my
Or go to http://www.history.army.mil/html/books/105/105-1-1/index.html
'VR Howard"

News around the World / Nouvelles dans le monde
https://www.thestar.com/news/canada/2017/08/07/funeral-homes-warned-to-be-prepared-in-advance-of-possible-pandemic.html
Valuable Lessons about Russia from the Bear's Role in the Arctic (North Deeply, 7 Aug)
https://www.newsdeeply.com/arctic/articles/2017/08/07/valuable-lessons-about-russia-from-the-bears-role-in-the-arctic
At 50, ASEAN should strive for a democratic future (Asahi Shimbun, 7 Aug)
http://www.asahi.com/ajw/articles/AJ201708070012.html
Après l'attaque de Levallois, le rôle de l'opération Sentinelle remis en question (France 24, 10 août)
http://www.france24.com/fr/video/20170810-apres-lattaque-levallois-le-role-loperation-sentinelle-remis-question
Marius Grinius: North Korea, the new Great Game (CGAI.ca, 10 Aug)
http://www.cgai.ca/north_korea_a_new_great_game?utm_campaign=grinius_korea&utm_medium=email&utm_source=cdfai